MD"A" Effective Speaking Contests
Effective Speaking Final - May 1, 2,3, 2015, St. Catharines, Ontario
---
May 2013 - All documents: instructions, rules and forms required to hold an effective speaking contest are currently under review and revision.
Effective Speaking Manual, English & French (March 2011) (PDF)
---
MDA Effective Speaking Finals: 2013
There were 163 people registered, including 32 speakers, for the MDA Effective Speaking Finals held Saturday, May 4th, at the Holiday Inn & Suites Parkway Convention Centre in St. Catharines. There were 151 attendees at the Saturday Banquet alone! We tried a few new things this year. After an informal Friday night Opening Ceremony, families and competitors were encouraged to get together downstairs, with donated snacks, pop and water. The room was absolutely crowded with participants and their families getting to know each other and, in some cases, renewing acquaintance! Another thing we tried, was getting all 32 competitors on stage together, as District winners. Unfortunately, we were unable to get all of them in the same picture due to the stage being one level, but there were lots of pictures taken. Each time, before announcing winners, we had all the Youth in each category together on stage. Parents and supporters appreciated every opportunity to take their pictures.
Council Chair Bradd Anderson and A-2 Governor Allen Snider kindly gave out all the cheques, certificates, and trophies to each competitor. The Senior and Intermediate 1st place winners received cheques for $1,000. each in addition to their trophies and certificates. Second place Senior and Intermediate winners, as well as 1st place Junior winners received $500. each, in addition to their awards. Third place Senior and Intermediate, as well as 2nd place Junior winners received cheques for $200. each as well, and third place Junior speakers received $100. cheques.
I want to thank all those who came to help out: firstly, the MDA Effective Speaking and A-2 Host Committees; it wouldn't have happened without your help! Next, I want to thank all those who helped as Room Chairs, Judges, Door Chairs, Timers, Escorts, Tellers, and those who did Registration, Briefings, Ticket sales, etc. About sixty people were required: over twenty judges; ten each in English and French, plus all those positions listed . Thank-you to the District Chairs, former Chairs, Host Committee, and the many PDGs and their spouses who attended and helped. It was all appreciated and essential. Our success was due to your efforts.
Finally, I want to thank the hotel, the Holiday Inn & Suites Parkway Conference Centre, whose staff were so very accommodating. Several District Chairs commented that they wished they had access to the same accommodations and helpful, friendly staff elsewhere in the province.
Submitted by Lion Joyce Harvey, PDG
MDA Effective Speaking Co-ordinator, 2012-13
---
MDA Effective Speaking , May 3-5, 2013
Weekend Statistics and Youth Winners
There were 163 people registered, and 32 competitors, from 9 of the 10 Districts participating. We used 53 rooms in the Holiday Inn & Suites Parkway Conference Centre, St. Catharines. We had 112 to Breakfast, 115 for Lunch, and 142 Banquet, and 9 Junior Banquet.
| | | | | | | | |
| --- | --- | --- | --- | --- | --- | --- | --- |
| A-1: | 3 speakers | Jr. Eng. | | Sr. Eng | | Int. Fr. | |
| A-2: | 3 speakers | Jr. Eng. | Int. Eng. | Sr. Eng. | | | |
| A-3: | 3 speakers | Jr. Eng. | | Sr. Eng. | Jr. Fr. | | |
| A-4: | 6 speakers | Jr. Eng. | Int. Eng. | Sr. Eng. | Jr. Fr. | Int. Fr. | Sr. Fr. |
| A-5: | | | | | | | |
| A-711: | 3 speakers | Jr. Eng. | | Sr. Eng. | | Int. Fr. | |
| A-9: | 3 speakers | Jr. Eng. | Int. Eng. | | | Int. Fr. | |
| A-12: | 3 speakers | Jr. Eng. | | Sr. Eng. | Jr. Fr. | | |
| A-15: | 5 speakers | Jr. Eng. | Int. Eng. | Sr. Eng. | Jr. Fr. | Int. Fr. | |
| A-16: | 3 speakers | Jr. Eng. | Int. Eng. | Sr. Eng. | | | |
Winning Speakers
| FIRST PLACE | SECOND PLACE | THIRD PLACE |
| --- | --- | --- |
| Junior English | Junior English | Junior English |
| A-711 Luke Doria | A-2 Tyler Minor | A-1 Marissa Mueller |
| | | |
| Junior French | Junior French | Junior French |
| A-3 Sabrina Adam | A-4 Abigael Carpenter | A-15 Tarryn Swanek |
| | | |
| Intermed. English | Intermed.English | Intermed. English |
| A-15 Laura Bender | A-9 Lucy Kavanagh | A-16 Janki Dave |
| | | |
| Intermed. French | Intermed. French | Intermed. French |
| A-4 Sebastian Meissner | A-15 Avinash Pandey | A-711 Sabrina Yussuf |
| | | |
| Senior English | Senior English | Senior English |
| A-2 Karissa Manning | A-15 Maggie LaRonde | A-711 Victoria Kaulback |
| | | |
| Senior French | Senior French | Senior French |
| A-4 Jessica Turgeon | | |
---
Some of the MD"A" Effective Speaking Participants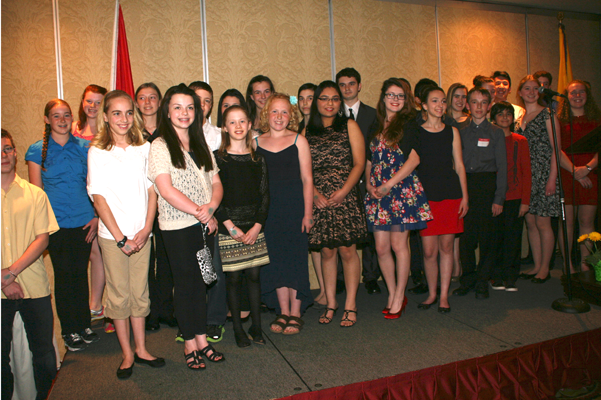 ---
Letter from a grateful participant